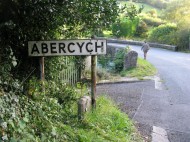 Directly from the cottage there are short walks along the river or up into the woods of the Clyfyw Estate (sculpture trail and roundhouse). A circular walk (about 2 hours) along country lanes and through Clynfyw's farm land takes you to Fynonne waterfall, an ancient and magical site. A dip in the deep pool at its base will leave you tingling for days!
The Welsh Wildlife Centre in Cilgerran stands within the Teifi Marshes Nature Reserve on the banks of the River Teifi. With panoramic views from the Glasshouse Visitors Centre and Cafe, the centre has an adventure playground with lots of slides and play equipment with living willow structures to play in and around. If you wish to take a canoe trip up river as far as Cilgerran Castle contact Heritage Canoes who operate from here.
At the award-winning 'Caws Cenarth' you can taste their delicious cheeses at the farmhouse dairy where they are made. Cafe Cwtch is open here during the summer months. 5 minutes by car or a lovely circular walk through country lanes.
The market town of Newcastle Emlyn is a short drive (fresh local and organic fruit and vegetables, fresh fish, delicatessen, antiques, excellent quality Indian restaurant & takeaway). The castle ruins and surrounding parkland next to the river make for a pleasant amble.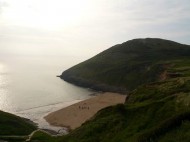 A lovely drive (9 miles) down past the Three Counties Pool and along the beautiful Teifi valley takes you to Cardigan on the West Wales coast, with many blue-flag beaches and a large colony of bottle-nose dolphins. Mwnt is one of the best beaches in west Wales, you can enjoy the unspoilt cove, explore the ancient church, and it's a wonderful location for seeing wild dolphins and porpoise. At Cardigan Island Farm Park you can see seals and seal pups. Cardigan has a wide choice of small independent shops – a well stocked wholefood shop, a traditional sweetshop on the high street, numerous cafes and an Indian restaurant floating on a boat.
The Arts Centre at Theatr Mwldan in Cardigan has events throughout the year (specializing in world film and music), and free art exhibitions open daily. Small World Theatre's building (just up the hill from Theatr Mwldan) is worth a visit to see environmental architecture in a public building. They organize performance and craft workshops for children and adults with a commitment to arts activities as transformative for communities and individuals and have an interesting programme of performances reflecting their focus upon political and environmental change.
The Teifi is one of the UK's best Salmon rivers. During spawning season you can watch the salmon leaping up the falls at Cenarth . For fishing on the majority of the 24 miles of river banks of the Teifi contact the Teifi Trout Association or see www.fishing.visitwales.com for broader river and coastal opportunities.