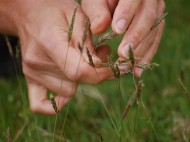 Joanna Young will be in residence at 2 Penrhiw from the 10th to 20th October 2011, researching for the development of a dance work for film with composer James Williams. 'Works on grass' is inspired by vast Welsh landscapes and visual artist Georgia O'Keefe, aiming to embody the soul of the outside into performance using live sound and dance. Their intention is to research the landscape and culture of the area through sensing and improvising, to take time for a detailed and in depth process towards creating performance that is visually hypnotic and conceptually                                                                             driven.
At the end of the 10 days Joanna and James will share their work informally in site – please do be in touch if you'd like to attend.
Joanna Young is a Welsh based choreographer and performer who graduated from the Northern School of Contemporary Dance in 2006. Working under the name of Alice Theatre Joanna has created work for stage, film and site. Her choreography is laconic with a surreal edge, linking intricate gestures with dynamic and forceful movements.
James Williams is a Cardiff based composer who works in theatre and dance. "The music for this collaboration will be exploring the pastoral in the context of past and present. It will concentrate on the elements that represent the changing and unchanging forces of nature; in particular water, wind and birdsong. It will also explore rhythms that are suggested by the land and the impact that farming has had on the land."
Link here to see this work in progress… http://www.youtube.com/watch?v=O54yNpLDWO4