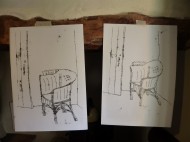 Here are just a few images from Sera's residency here in March, and some of her words of reflection on her time here.
"Quite possibly, a testament to the fact that my strengths lie not in words but in more abstract methods of communication, the writing that I had attended to diligently every day at 2 Penrhiw during my residency, was lost on my return to Scotland when my computer finally shuffled off this mortal coil.
What I am left with is a memory of the great calm and generosity of spirit that pervades 2 Penrhiw. Stirling Steward and Simon Whitehead are remarkable people and 2 Penrhiw is a remarkable place.
Being introduced to the cottage is like reading a book for the first time; each door hails a new chapter. The unassuming front door gives nothing away and as each room is entered a tale of quiet history and loving restoration unfolds until, as with all good stories, the back door and final chapter reveals an unexpected, and in this case, immensely elevating, twist.
As I draw and paint from life, I had planned to work with the house, the immediate environment surrounding the house and people from the village. Thorough observational drawing gives me the skills I need to work from life in ink and paint. I enjoy the intensity and challenge that working in indelible media creates and the necessity for integrity in practice. I also relish the challenge of drawing transient or moving subjects for the same reasons.
The residency provided a supportive and peaceful environment to do this with a wealth of subjects to work from; the cottage itself, the surrounding old trees, the vast clouds which rolled past and the people from Abercych who generously gave up their time to sit for me.
It was an invaluable period of time for me to work without distraction and to return to a part of Wales that provides me with many fond memories of childhood visits to my aunt who lived nearby.
I would like to extend my gratitude to Stirling and Simon for their vision and generosity; to Beti for the calm that emanated around her and to Nora for her enthusiasm and her gifts of warm chicken eggs and other little handmade treasures."