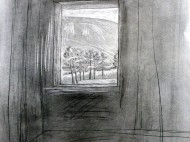 We are delighted to welcome Sera James Irvine here for the first 2 Penrhiw residency in 2011, 18th to 28th March.
During the residency Sera will be drawing the interior of the house, the landscape around it and people from the village. She means to use drawing in its broadest sense through using line, mark making, mono print and paint in response to what she sees.
"My practice is quiet and spare with a strong foundation in observational drawing. Through line I explore forms in space; how a drawing might be made in the lifetime of the event it responds to; how the act of making the drawing is intrinsic in the piece and how line can manipulate our perception of a flat surface.
As time goes on I realise that much of this is also an exploration of my own perceptions about myself and the world I live in.
Much of my work is done outside and most of it is done from life."
Sera grew up in North Wales and since 1997 she has lived and worked on the east coast of Scotland. In addition to her drawing practice she curates shows at her Contemporary gallery in the village where she lives. She also organises events in her village and is presently directing the artistic input for a conference at Aberdeen Centre for Environmental Sustainability.
We will keep you posted as the residency progresses and will announce any public events here…