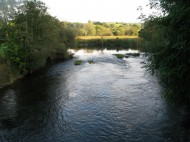 Twice a year the former worker's cottage at 2 Penrhiw, Abercych, will be made available for a 10 day residency for an Artist who through their practice will explore the changing environment and culture of this rural village. These first residencies are for emerging artists from, or based in, Wales. During the residency we invite you to engage with and make a contribution to the cultural life of the village and its environs. This could for example take the form of engagement with individuals in the community, running a workshop, a performance or an informal presentation of your work.
A small fund has been made available through Pembrokeshire County Council for the first two residencies. An honorarium of £200 will be given to each residency Artist. Collaborative residencies (up to 2 Artists) are welcomed, however the honorarium would need to be split between those involved.
The first residency is 18th to 28th March 2011 and is open to Artists in any medium. The second residency, 7th to 17th October 2011, is for those with a Dance/Movement practice. To apply send a short biography, a description of your idea, and two images of your work, by 10th February 2011, to:
Stirling Steward and Simon Whitehead, 1 Penrhiw, Abercych, Pembrokeshire SA37 0HB; email hello@2penrhiw.co.uk.