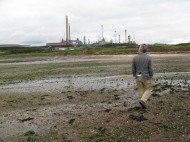 The Milford Swallows, took place in the autumn of 2008 again when the cottage was still being transformed. For info and photos go to: http://www.ointment.org.uk/events.html
In this project ointment commissioned 2 artists to explore a local phenomenon in relation to its global context. Through field research and conversations with ornithologists, folk musician Ceri Rhys Matthews and live artist Ben Stammers examined the context of a modern folk story, and responded in their own ways to the ideas and sensations it evoked.
In 2007 a small group of swallows wintered in the Chevron oil refinery in Milford Haven, Pembrokeshire. Employees became aware of the birds and helped to protect their roosts, and the birds appeared to survive the winter. John Hayes, Chevron safety officer, kept doors to a small heated control room open for the roosting birds and this compassionate act was a major reason the birds survived. In December 2008 there were still 4 pairs of swallows at the refinery, using the same site to roost. ointment wondered if this could this be the first sign of a new migration and settlement pattern such as that of blackcaps, which now winter in significant numbers in different parts of the UK? Could these new behaviours reveal signs of global climate change?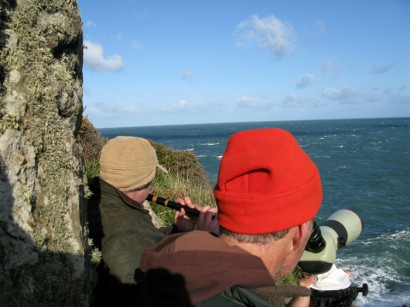 The Milford Swallows formed a basis of enquiry that acknowledges how extraordinary local events are traditionally immortalized in folk culture. The Abercych residency with Ceri and Ben illustrated how these stories have always been recorded and preserved locally as anecdotal archive. The artists spent 2 weeks in Abercych at 2 Penrhiw observing the last swallows, watching the migration of sea birds at Strumble Head and visiting the remaining swallows at Chevron oil refinery.
Later in October Ben and Ceri led an afternoon of live art, music, song and storytelling in the village Hall in Abercych. An eclectic mix of artforms, perceptions and memory, the event took an audience of over 90 people from the hall, to a small terraced house (2 penrhiw), from live drawing, projection and bag piping to a small intimate gathering around a fire to listen to folk songs.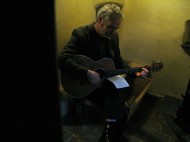 The event culminated in food in the village hall and a lively discussion chaired and steered by Mike Pearson performance maker and 'twitcher' and Charlie Kronick who heads Greenpeace UK's climate Change campaign. Discussions centred on local observations of changing migration behaviour and reflected the feeling that patterns of migration and settlement in the UK (geese, cranes, marsh harriers, warblers, egrets, etc etc) are currently changing dramatically – which will need a considerable cultural adaptation on our part: as traditionally these rhythms have been the way we psychologically navigate through our seasons. The discussion ended with a spontaneous Welsh folk song from Julie Murphy.
The Milford Swallows project is the beginning of a longer scale enquiry by ointment into migration as a dynamic natural and cultural phenomenon that has both local and global consequences.