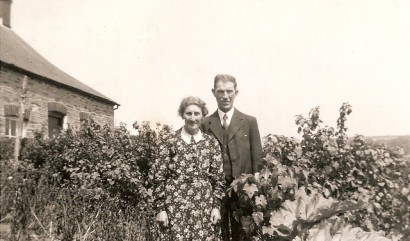 History of 2 Penrhiw, written by Ruth Myfanwy Edwards.
No.2 Penrhiw was in our family for almost 100 years before the present owners bought the house. My grandfather (or tadcu in Welsh) Benjamin Thomas Jones was born in Ty'r Allt not far from Pontseli on the 30th July 1882 but was raised in Ffynnonau Bach, Abercych. My grandmother, Leah Davies, was born on November 29 1884 and was raised by her widowed mother in Ffynnon Ddwysant near Penrith Church. Benjamin was granted tenancy of the house by Mr Tom Bowen of Clunfyw (a local landowner) on September 24 1910 and moved in with his mother in January 1911.
Benjamin married Leah on February 9 1911 and the three lived at No.2 Penrhiw. They managed to buy the house from the Clunfyw estate in 1948. They lived a simple life. My grandfather who was over six feet tall with reddish hair, was a tailor and cycled every day to Boncath (apx 3 miles uphill) to the workshop where he was employed, and also took in some work to do from home.
My grandmother had worked in the Post Office in Boncath too, but after she was married, settled at Abercych and helped out at the Post Office and shop in the village. The garden supplied their fruit and vegetables, and their meat by the pigs they kept, buying two every year. One to fatten for themselves to share with neighbours, and the other to sell to the butcher. The pigs were kept in the pigsty (twlc) which was a little further up the road next to No.3 Penrhiw but unfortunately is no longer there. The villagers timed the killing of all their pigs in rotation, so there was always fresh meat available to share around everyone. Their weekly shopping list from the local grocer would be of about five items only, such was their ability to sustain themselves. These would consist of items such as, tea, sugar, rice (pudding), cheese, flour, and mints!
Four children were born to them, my father being their last and only surviving child past infancy. They were devout Christians, my grandfather being a deacon and Sunday School teacher and my grandmother would clean their local Congregationalist chapel – Bryn Seion, which could be seen across the Cych valley from their back door.
Benjamin was a pacifist, socialist, abstainer and a conscientious objector. In World War 1 he represented Pembrokeshire in the No-conscription Fellowship and faced two tribunals himself. He was involved in the Temperance movement and was a Requabite. He was a great reader, debater and loved singing hymns and was the song leader (codwr canu) in the chapel.
My grandmother was a very intelligent woman with a sharp memory who would have had much more opportunities in life had she been born today. They both changed very little with the times and their house and way of life changed very little till they had to move, due to failing health, to live with us in Aberystwyth in 1972. When they passed away, they were both buried at the cemetery of their beloved Bryn Seion.
The house was kept very much as it was, and my father Ieuan Thomas Jones drew great comfort and enjoyment from time spent tending the garden and among his parents' belongings. When he passed away, the time had come for us to release the house over to new owners with a new chapter in the history of 2 Penrhiw and we wish them from the bottom of our hearts all the success possible with their new venture.